Ave Maria Real Estate
Ave Maria real estate options include condos, coach homes and spacious single-family homes in one or two-story floor plans. Home values will range from the $100s to $400s, but regardless of your preference in Ave Maria real estate, residency accommodates exclusive access to the range of amenities and sense-of-community which combine to make this such a great choice for those hoping to secure a new home in Southwest Florida.
Almost 15 years have passed since the initial development of Ave Maria real estate first began. The development was prompted through a remarkable collaboration between Barron Collier Companies & Tom Monaghan, a leading philanthropist and activist of the Catholic faith who was fundamentally responsible for spurring (and funding) the development of Ave Maria University and its surrounding township. Since the initial creation of Ave Maria University and the landmark Oratory parish which is affiliated with the Diocese of Venice, the community has blossomed to sponsor a vibrant business district as well as a number of neighborhoods which are graced with community lakes, parks and preserve areas. Though each neighborhood has its own amenities and architectural style of home, all residents of Ave Maria can conveniently access features which enhance the quality of life here.
Amenities
 Life in Ave Maria seems to combine a sense of village meet country club lifestyle. Along the piazza that encircles the Oratory, there are boutique stores, salons and super markets. There's also coffee shops, a popular pub, options in dining venues, and healthcare providers, all respectively located at street level while apartment residences are located above. There is room to drive, but the layout and connectivity here more easily encourages walking or bicycling, and many people do.
The commercial ce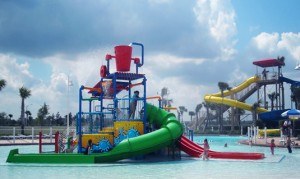 nter is surrounded by ample open space which equally beckons one to enjoy a stroll along the lake, enjoy a picnic or a game of catch. This is both a family-friendly and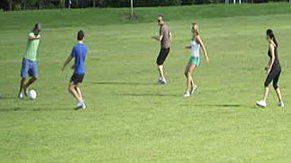 pet-friendly community. Kids and canine-counterparts have plenty of space to run and play. There's even a water park with slides and shallow pools which is sure to make a splash with tots and tykes. Throughout the year, these same outdoor spaces play host to a variety of community events. From car shows and arts & craft fairs to concerts and cherished seasonal celebrations, residents have numerous opportunities to come together for fun and fellowship.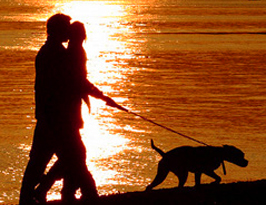 Among the North Park area of Ave Maria, there are soccer and softball fields, a basketball court and children's playground. The South Park area also has a softball field, but is further complemented with eight bocce ball courts, pickle ball courts, a walking & running trail, community ampitheater and a park perfectly suited for pooches.
Golf & More
Golfers will also appreciate living just moments from one of the most exceptional golf courses in the region. The Panther Run Golf Club, a semi-private course located among the Del Webb neighborhood, is an 18-hole championship course designed by Gordon Lewis and managed by Troon Golf.
Of course, with its per capita composite of public and private holes, Southwest Florida has become distinguished as "The Golf Capital of the World!"  Ave Maria real estate is positioned within an epicenter of golf options. Many other outstanding golf venues can be found just minutes from the community.
Location, Location, Location!
As quiet, rustic and remote as Ave Maria real estate may appear, the fact remains that some of Southwest Florida's leading attractions are only a short drive away. Ave Maria is located off of Oil Well Road which can be accessed via Immokalee Road in North Naples or via State R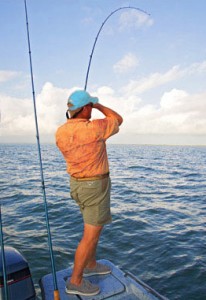 oad 29 off Aligator Alley which is south of Naples. Whether it is fishing and boating along beautiful Gulf beaches, air boat rides along that wide river of grass known as the Florida Everglades, or kayak excursions within the Rookery Bay Nationalal Estuarian Reserve, there is unceasing opportunity to enjoy the outdoors only a short drive from Ave Maria.
The art galleries and arts centers of Naples, along with all the upscale boutiques and restaurants of world famous Fifth Avenue South is also conveniently close. There is truly something for everyone in Southwest Florida. From the swamp buggy races at nearby Florida Sports Park to the blossoming beauty at venues like Naples Botanical Gardens or Caribbean Gardens: The Zoo in Naples; from artist exhibitions and receptions among Gallery Row in Olde Naples to legendary recording artist concerts, plays and symphony performances at venues like Artis-Naples, there's just so much to do, but again, all of these attractions await appreciably close to Ave Maria.
Southwest Florida has gained recognition as one of America's "Best Places to Retire," yet is also distinguished as one of this country's most outstanding places to do business, grow a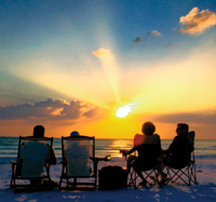 business and a leader in terms as forecasting job growth. Among all the accolades and statistical prognostications for future prosperity, Ave Maria has emerged as the fastest growing community, and it's easy to see why. This is a great time to purchase Ave Maria real estate. The community is still growing and the range of price points and home floor plans ensures that buyers can identify properties that align with their lifestyle and budget requirements. To be sure, one might find it difficult to find a more fun, yet family-friendly and faithfully-focused community like Ave Maria. The quality of life and quality of community truly sets this area apart from others.
Contact Us For More Info on Ave Maria Real Estate
Should you have any questions on homes among the neighborhoods of Ave Maria, simply connect with our team by submitting the contact form below.
Ave Maria Property Listings